There will always be a risk of electrically induced accidents at a construction site.
In fact, an electrical hazard is one of the major reasons behind workers' death or fatal injuries.
In 2018 alone, more than a hundred workers died due to electrical safety issues, according to the US Bureau of Labor.
Hence, if you're in real estate development or electrical contractor business, electrical safety on construction sites must be your topmost priority.
As a business owner, you must make sure that none of your employees or workers get hurt or even die due to persistent safety issues.
But if you're sincere enough, learn about these six top electrical safety tips that you must implement on your construction site.
6 Top Electrical Safety Tips on a Construction Site You Must Know About: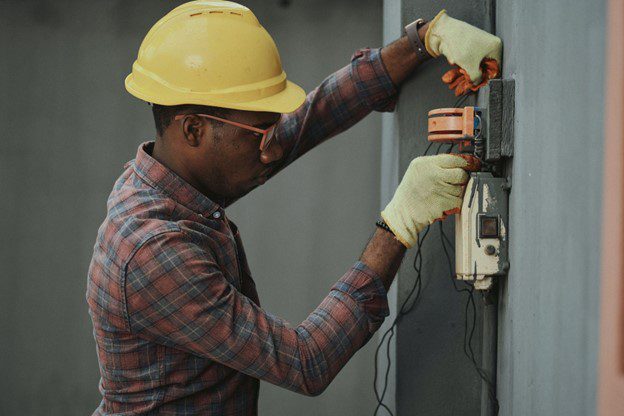 1.Ensure Risk Assessment:
Getting your construction site assessed for risks with a qualified electrical contractor or consultant should be mandatory to reduce electrical hazards.
You can get a licensed electrician in Columbia, SC, and nearby cities to conduct a risk assessment on your site.
By doing this, you can survey the whole construction area and identify the risky points or outlets where deadly accidents may take place.
Assessing electrical safety risks will make it easier for you to plan necessary preventive measures.
These will warn your workers and engineers to set foot accordingly while executing their daily project tasks, causing minimum to no electrical hazards at all.
2.Use Safety Tools:
This is an old-school rule and you can't ignore it in your construction sites while working under assessed or clueless conditions.
Safety equipment or tools should help your workers check on loose wiring, power boxes, grounded or dead wiring, etc.
This will reduce the risk of any possible accidents and fatal injuries.
Always tell your workers and electrical engineers to equip themselves with top-notch testing tools like cord protectors, clamp meters, voltage, detectors, receptacle testers, etc.
Compromising the quality of testing equipment may put you through electrical hazards and injuries, as well as delay your work progress significantly.
3. Avoid Wet Areas:
Poorly insulated electrical equipment can turn into deadly hazards if your workers work with them in wet conditions.
There's a high chance of getting electrocuted by this, posing a great risk of fatal injury or death.
One of the major aspects of the electrical safety plan is to get rid of the wet conditions before actually starting to work on the construction site.
For instance, working in the concrete pile area can be risky since it requires a constant power supply to carry out the task.
Let the electrical equipment be thoroughly inspected by a professional and reliable electrician to ensure zero hazards. 
It's also useful to check the weather forecast before planning and scheduling project tasks.
This helps in keeping necessary measures at hand should you face any trouble due to sudden rain or storms during construction works on site.
4.Never Ignore PPE:
Wearing your PPE (personal protective equipment) is mandatory whether you're working in a construction site or hazardous areas of a plant or factory.
In electrical works, PPE includes bump caps, eye protection, bib overalls, long-sleeve shirts, long pants, safety gloves, safety shoes, and so on.
Ignoring this equipment will most likely get you into electrical hazards like electric shocks, flashes, etc.
This will not only pose risks of death or severe injury but represent your business as an irresponsible entity.
5.Ensure Necessary Training for Workers:
It is in your company's best interest to provide necessary training and workshops for your workers.
If your workers aren't well-trained on their regular electrical tools and equipment, they'll most likely end up compromising the whole construction project.
There will be loose wiring, faulty connections, grounded wires, unexpected high-voltage shocks and flashes, and other issues.
A very important aspect of training your workers and engineers is that this needs to be conducted on a regular basis.
People may get wobbly with their equipment at times even if they do it on a daily basis.
Moreover, new machinery and electrical equipment come out now and then.
Hence, it's essential to keep your engineers and workers up to date about what they're going to use in your project.
6.Protect and Organize Wires:
Leaving the wires unprotected or unorganized is a major mistake many construction workers make.
Hence, accidents take place due to tripping over tangled wires.
In many cases, this leads to electrocution if the power supply is on.
What you can do is apply a wire guard or cable cover to your exposed wires, so they're protected from being damaged or torn.
Damaged wiring will always pose a risk of electric shocks, injuries, or deaths.
4 Electrical Hazards You May Encounter on a Construction Site:
Knowing about some common electrical hazards in construction sites will give you an idea of what to expect and how to handle the situation.
Let's go over five electrical hazards you may encounter:
1. Overloaded Circuits and Wires:
When you're using improper sizes of wires, there is a high chance of the wires and circuits getting overloaded with power.
Short circuits may happen, which can go against your electrical safety plan.
2. Exposed or Unprotected Areas:
Ongoing construction sites will always have exposed areas where electrical wires and power panels will show up.
If you don't cover them with proper tags and barriers, other workers or engineers may come in contact with them and experience burns and shocks.
3. Inappropriate Grounding:
Inappropriate grounding is a common scenario in construction sites.
In fact, it's a violation of electrical work regulations. So, equip your grounding with the proper measures and tools.
Make sure the metallic grounding pin is in place; otherwise, any unexpected voltage or power supply can't be redirected to the ground for safety.
4. Overhead Wiring:
In construction sites, overhead wiring and power lines are a common scenario.
Usually, these wirings have a high-voltage power supply flowing through them to maintain various electrical outlets, machines, and light sources.
If they accidentally come in contact with the wiring, your workers may get intensely electrocuted, causing them deep burns and even death.
You had better tag those lines with warning signs and tell your workers and engineers to keep a safe distance.
Conclusion:
Keeping your construction site electrically safe is not only a safety measure but an attempt to complete your project on time.
Unexpected accidents, injuries, or deaths may lead to loss of time, capital, and valuable resources.
Get yourself equipped with the effective tips we've shared above to make your construction site safe and productive.