Are you looking to give your home a fresh look without breaking the bank or harming the environment?
Then, prepare to embark on a recycling adventure as we explore ingenious ways to redecorate your home with recycled materials.
From salvaged wood furniture to upcycled glassware, these eco-friendly ideas will transform your home into a sustainable sanctuary.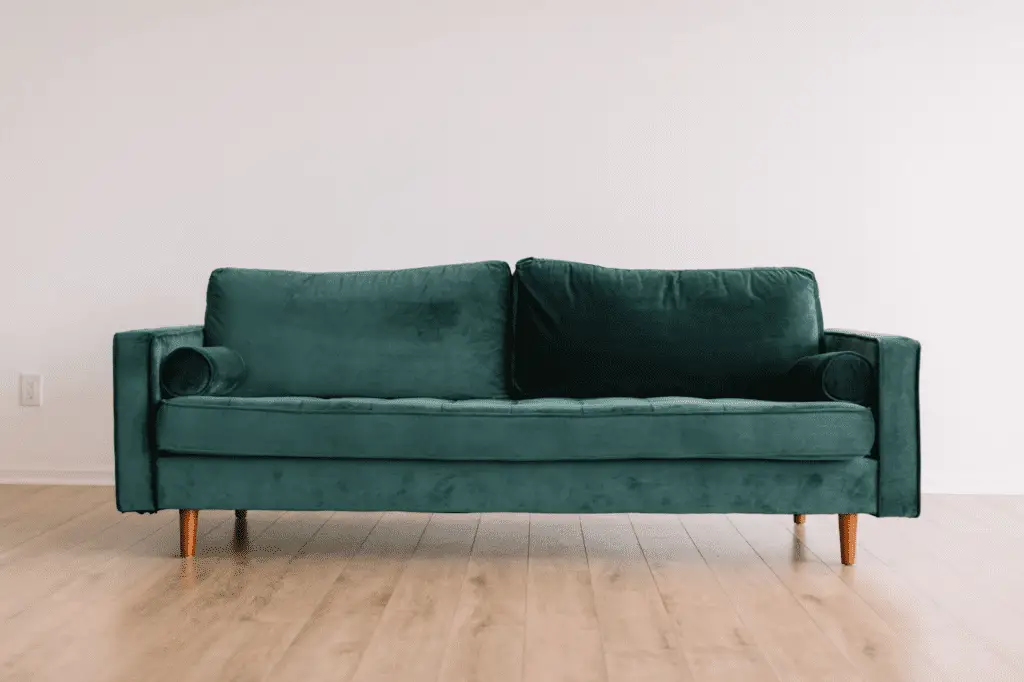 Ideas to Redecorate Your Home:
Salvaged Wood Furniture
Repurpose discarded wooden pallets, barn doors, or salvaged lumber into one-of-a-kind furniture pieces.
Then, get your hands on a particle board guide to discover how salvaged wood can bring warmth and charm to any home, from coffee tables to bookcases. 
These materials frequently incorporate adhesives and resins that are less environmentally friendly than solid wood solutions.
As a result, choose solid salvaged wood to provide a more sustainable and natural choice for your furniture projects.
Upcycled Glassware
Reusing glass bottles and jars is an excellent method to give fresh life to ordinary items while decreasing trash.
You can turn them into beautiful vases, candle holders, or storage containers with a little imagination, adding charm and practicality to your environment. 
A fresh coat of paint in your favorite color, or the addition of decorative accessories like ribbons, twine, or stenciled motifs, will quickly transform classic glassware pieces. 
You contribute to a more sustainable lifestyle by upcycling glassware and making distinctive and eye-catching design objects that may become discussion starters in your house.
Vintage Suitcase Shelves
Consider reusing old bags as shelves. Mounting old luggage on your walls adds functional storage and a touch of nostalgia and conversation-starting appeal to your room.
Because each piece has its history and tale, these reused suitcases provide character and personality to your home design. 
You may arrange them in various ways, stacking or laying them side by side, to create an eye-catching show.
You may also personalize them by adding ornamental elements like labels and stickers or even painting them in colors that match your current decor. 
Vintage suitcase shelves are utilitarian and serve as one-of-a-kind statement pieces that demonstrate your ingenuity and commitment to sustainable design.
Recycled Textile Art
Pay attention to the possibilities of recycled fabrics when it comes to bringing a bit of creative flair to your house.
Fabric scraps, worn-out clothing, and even old scarves may be converted into beautiful wall art or colorful cushion coverings. 
By reusing old fabrics, you not only give them a new lease of life, but you also help to reduce textile waste. Make a dramatic statement item that represents your particular style by being creative with patterns, colors, and textures. 
Combine different fabrics, try out different stitching techniques like patchwork or embroidery, and experiment with different decorations like buttons or beads to create an added layer of visual appeal. 
Tire Planters
Don't allow old tires to wind up in landfills when they may be recycled into unique and environmentally friendly planters for your garden or balcony.
Giving them new life eliminates trash and provides a one-of-a-kind touch to your outdoor environment. In addition, tire planters are a flexible and inexpensive way to produce plants, flowers, and even tiny veggies. 
You may personalize them by painting them in brilliant colors that suit your existing décor or show your unique flair. You may even stack many tires to make an aesthetically stunning vertical garden, enhancing your planting space in a small space. 
Reusing tires into planters demonstrates your devotion to sustainability and adds a whimsical touch.
Wine Cork Bulletin Board
If you're a wine fan or have a collection of wine corks, why not make a one-of-a-kind bulletin board out of them?
Collecting and recycling wine corks allows you to create a practical and eco-friendly display for your workplace, kitchen, or any room with a convenient spot for notes and reminders. 
To make the bulletin board, glue the corks together in your design or arrangement and frame them for a finished look. The cork's rough surface makes an ideal backdrop for attaching notes, pictures, and other vital objects. 
This DIY project helps decrease waste by repurposing materials and adds a rustic appeal and uniqueness.
Reclaimed Metal Lighting
Repurpose discarded metal artefacts into intriguing pendant lights that become eye-catching focal pieces in any environment to embrace the beauty of the industrial design.
Colanders, wire baskets, and even abandoned metal components may be converted into one-of-a-kind lighting fixtures with a little imagination. 
Repurposing these materials reduces waste and adds a unique and rustic character to your design.
Finally, pair the salvaged metal object with a vintage-style bulb to complete the industrial design, which gives warmth and nostalgia to the entire vibe. 
The mix of metal surfaces and the gentle glow of the bulb creates a visually appealing contrast. These repurposed metal pendant lights brighten your area and function as discussion starters and aesthetic statements.
Vinyl Record Wall
Repurpose vinyl records into elegant wall art pieces that honour both music and creativity to bring back their nostalgic appeal.
Old vinyl records have a particular place in the hearts of music fans, and you can carry that love into your home design by making their wall art. 
Arrange the recordings in intriguing patterns or forms that correspond to your particular taste or the subject of your room.
In addition, the visual effect of vinyl record wall art will likely draw attention, whether it's a symmetrical arrangement, a random collage, or a specific design. 
Installing them on your walls adds a unique touch to your décor and is a discussion starter for guests who enjoy music.
The circular shape and distinctive album artwork of vinyl records create a visually captivating display that pays homage to the era of physical music media. 
Repurposed Mason Jars
Regarding reusing and upcycling, Mason jars are genuine multi-purpose jewels. Because of their adaptability, they may be turned into a broad range of practical and aesthetic things for your home.
For example, repurpose them as attractive candleholders to create a pleasant and rustic feel in any area. 
Place tea lights or pillar candles inside the jars and enjoy their lovely lighting. Mason jars may also be used as bathroom organizers, housing toothbrushes, cotton balls, or even makeup brushes. 
Simply add flair by painting them with paint, fabric, or twine to fit your preferred look.
Furthermore, with DIY magic, mason jars may be transformed into one-of-a-kind pendant light fixtures hanging from the ceiling.
Newspaper Wallpaper 
Making recycled newspapers into unusual wallpaper is a creative and eco-friendly way to create a one-of-a-kind feature wall for your home.
You not only decrease trash by reusing newspapers, but you also create an aesthetically appealing and conversation-starting feature. Begin by putting a layer of wallpaper paste on your wall to make newspaper wallpaper. 
Then, place newspaper pages carefully in a collage-style manner, overlapping them to produce an attractive composition. You can utilize pages with compelling headlines, graphics, or pages from a certain subject or historical period. 
Consequently, you'll have a textured and visually dynamic wall that lends your room a nostalgic and creative flavor. Finally, finish the installation with a protective top coat to guarantee durability and longevity.
Repurposed Door Headboard
Repurpose an old door as a headboard for your bed. This creative project offers a distinctive center point to your bedroom and brings character and history into your sleeping area.
Begin by choosing a door that suits the intended style of your space, whether it's an antique wooden door, a colourful salvaged door, or a rustic barn door. 
Clean and sand the door to produce a smooth surface before applying a fresh coat of paint in a colour that fits your bedroom decor.
You may add creative details like stencilled patterns, ornate mouldings, or even recycled hardware to increase the overall appeal. Secure the repurposed door to the wall behind your bed,
Bicycle Wheel Clock
Repurposing an old bicycle wheel into a one-of-a-kind wall clock is a clever and original way to combine usefulness with beautiful design.
By resurrecting an old wheel, you not only save trash but also create an eye-catching centerpiece for your living room or study. 
To transform the bicycle wheel into a clock, clean and paint it in a colour that fits your décor. Then, add numerals or distinctive clock hands to improve its functioning and make it simpler to see the time.
Traditional clock numbers can be used, or you can get creative with different possibilities, such as little bike gears or vinyl decals. 
The ultimate product is a remarkable item that perfectly integrates industrial charm with contemporary design. So hang the bicycle wheel clock on your wall, and watch as it becomes a conversation starter and a focal point in your space.
Upcycled Bottle Chandelier
You may construct a stunning chandelier by upcycling glass bottles of various shapes and sizes.
This do-it-yourself technique repurposes used bottles and adds elegance and atmosphere to any environment. 
Begin accumulating glass bottles from various sources, such as wine bottles or beverage containers.
Remove labels or residue. Next, build a wooden frame or use a metal hoop as the chandelier's foundation. Finally, artistically arrange the bottles, dangling them from the frame using wires or strings. 
Insert LED lights into the bottles for an amazing touch to generate a warm and lovely glow. The mix of repurposed bottles and soft lighting provides a compelling centerpiece that changes the space. 
Whether it's a dining room, living room, or even a patio, the upcycled bottle chandelier becomes a stunning focal point, showcasing your commitment to sustainability and artistic sensibilities. 
Reclaimed Brick Garden Pathway
Repurposing old bricks to make a stunning garden pathway can add a touch of timeless elegance to your outdoor environment. In addition, reusing bricks lower waste and adds a rustic and nostalgic character to your yard.
Begin by gathering and cleaning the old bricks, ensuring they are free of extra mortar and dirt. 
Then, decide on a design or plan that complements your aesthetic tastes as well as the size and form of the bricks.
The choices are unlimited, whether it's a typical herringbone pattern, a basic stack bond, or a unique arrangement of different-sized bricks. 
Lay the bricks with care, making sure they are level and secure. Then, to add character and practicality, fill the spaces between the bricks with gravel, which produces a natural and appealing look.
Pallet Herb Garden
Make the most of wooden pallets' adaptability by changing them into a useful and space-saving vertical herb garden.
This inventive solution allows you to keep fresh herbs on hand in your kitchen while also bringing a touch of greenery to your surroundings. Begin by locating solid wooden pallets that are in good shape. 
Clean and sand them to achieve a smooth surface, and then add a protective sealer if required to increase their longevity. 
Once ready, tie the pallets to a wall, ensuring they are level and stable.
Attach miniature planters or pots to the pallet slats, leaving a space for each herb plant. Plant your favourite herbs, such as basil, mint, rosemary, or thyme, in nutrient-rich soil in the planters. 
Make the most of wooden pallets' adaptability by changing them into a useful and space-saving vertical herb garden. 
Additionally, explore where civil engineers can access valuable resources on concrete, construction techniques, structural design, building tips, and step-by-step how-to guides. 
Conclusion
You're now equipped with 15 brilliant ideas to transform your home using recycled materials.
You can create a space that reflects your style while minimizing environmental impact. Embrace sustainability and let your redecorating journey begin.