Pavement Quality Concrete (PQC) is a pavement quality concrete which is used for road pavement, runways pavement etc.
In PQC the mix design of concrete is preferably adopted with large size aggregates as per the specification of Ministry of Roads Transport and Highways.
Massive-scale construction of highways, runways, bridges occurring in India and world over are mostly made as inflexible pavement using Pavement Quality Concrete.
Properties of PQC:
High strength so that the vehicles wheel load can be distributed in the bottom layers without any deformation.
Resistance to friction due to tires.
Skidding of vehicles should be reduced.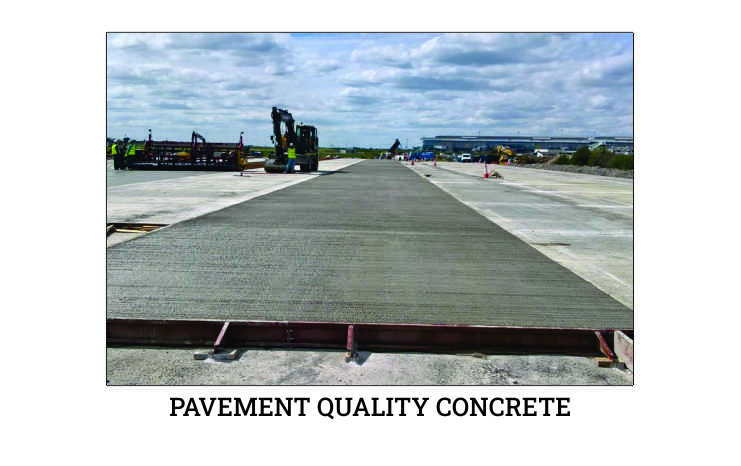 Material for Pavement Quality Concrete (PQC):
Cement:
There are three types of cement viz.
Ordinary Portland cement (OPC).
Portland Slag Cement.
Portland Pozzolana Cement.
Anyone of the above types of cement may be used to prepare the pavement quality concrete.
Coarse aggregate:
Aggregate to be used in the PQC will be coarse aggregates Complying IS: 383 having maximum size up to 25 mm as per ministry of roads transport and highways.
Fine aggregate:
Fine aggregates will include clean, natural or crushed store sand (i.e., artificial sand) or both of which conform to IS 383.
Fine aggregates shall be free from soft particles, clay, shale, loam, cemented particles, mica, organic and various foreign substances that accommodate ethics.
Water:
Water used to mixing or curing the concrete conforming to IS 456 2000.
In the case of PQC throughout hot climate water preparation of concrete will take from water chilling plant.
Admixtures:
Admixtures conforming to IS: 6925 and IS 9103 are used to improve the workability of concrete or extension of setting time.
Concrete strength:
The pavement concrete should be the grade of M40 concrete with a minimum of 28 days compressive characteristics strength of 40 N/mm.
Construction of PQC:
Following are the various steps involved in the construction of Pavement Quality Concrete:
A batching plant of 120 m3 / hour capacity should be used for the production of concrete.
Dumpers with hydraulic jack systems with a capacity of 9 cum are used to transport concrete.
Paving or laying of concrete is carried out in a width of 8.5 millimeters and the pavement used for pavement quality concrete should be a slip form paver.
The Slip form paving machine compacts the concrete by internal vibration and shapes between the side varieties with a conforming plate and oscillating finishing beam.
The ultimate closing of the floor is finished by a 'super-smoother' connected to the back of the slip form paver.
Texture or tinning might be executed with a specified machine specifically designed for the aim of providing grooves at a uniform distance of 18 mm to 21 mm.
Curing of pavement quality concrete, adopted by texturing using the curing compound, the curing compound might be a resin-based aluminized reflective curing compound.
After completion, the entire PQC is covered with Hessian cloth and water turned for 14 days.
Advantage of Pavement Quality Concrete:
It is tough and strong.
Durability is excellent, so the frequency of repair is low.
The increase in surface temperature is much higher than that of asphalt in summer and so on.
Disadvantage of Pavement Quality Concrete:
It is economical.
The layer should be made with expansion and contraction, because of temperature changes,  it takes several days after construction.
The surface is gorgeous when completed with the title iron, however, it turns into very slippery on rainy days.
Conclusion:
Pavement quality concrete is concrete that is mostly used for highway and road construction, it is completely different from regular conventional concrete using a 32 mm size aggregate.
This type of concrete requires slightly more cement content than normal concrete and designed mostly for M45 or M50 grades of concrete.
It is suitable for heavy traffic volume and mostly for the construction of national highways.