Mosaic Flooring Tiles are also termed Terrazzo Tiles are constructed of cement concrete and colorful stone shards.
In mosaic flooring construction, a concrete base is constructed, and lime surkhi mortar is spread and smoothed over it at a depth of 5 to 8 cm.
The area covered is confined to a fair working length, so that the mortar does not dry up before the floor is finished.
In this article you'll learn:
So, if you're ready to go with it, this article is for you.
Let's dive right in.
What are Mosaic Flooring Tiles?
Mosaic tiles are more stylish than a functional element, whether made of glass, stone, ceramic, or porcelain can be used to create a mosaic design.
To maximise the design, the tiles are frequently quite small.
Materials can be used including porcelain tile with glass tile accents to provide depth and flair to the mosaic design.
Colors, patterns, and motifs may be produced in an unlimited number of ways using the mosaic technique.
Many mosaic flooring tile patterns are pre-made and bonded to a mesh backing for simplicity in installation.
These are attached to the floor or other surfaces using thin-set cement that might be rectangular, square, or hexagonal in shape.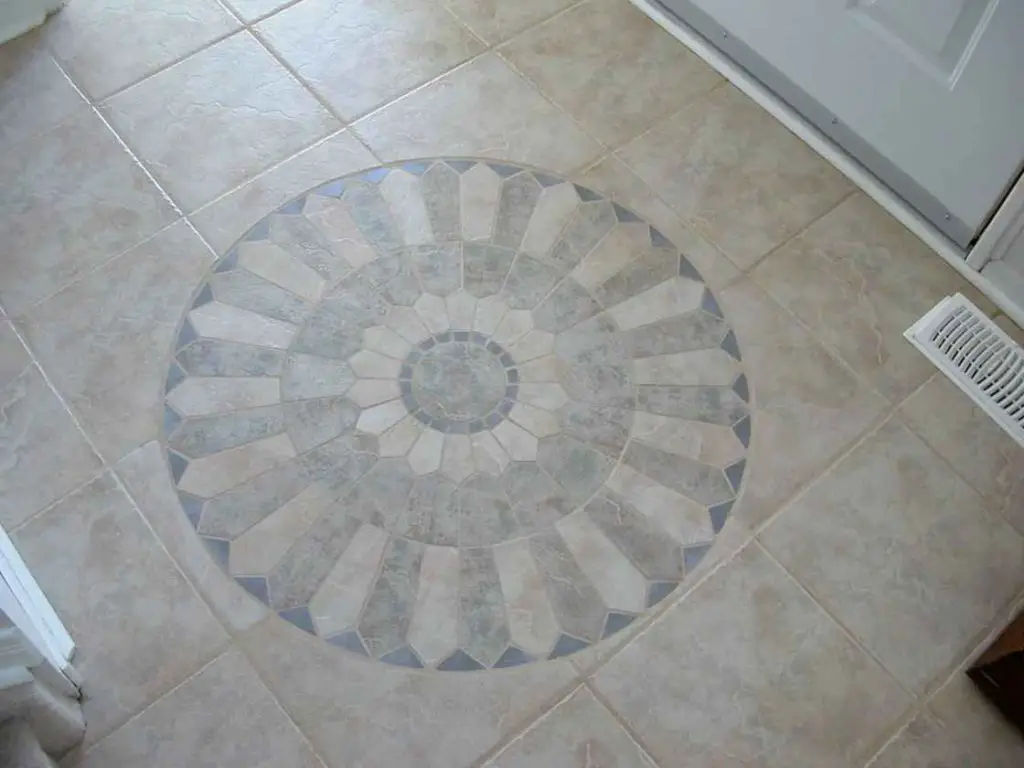 Purpose of Mosaic Floor Tiles:
These are quite appealing and vibrant, with a smooth, gleaming surface.
They are often created in sizes of 200X200X20mm and 300X300 X25mm.
These are widely utilized for flooring in residential and commercial buildings.
These tiles may also be created in a variety of other sizes depending on the market need.
All those are impermeable, resistant to pests, and simple to clean.
The tiles' top surface is decorated with marble stone chips in a range of colors along with the proper quantity of cement color.
Construction of Mosaic Flooring:
Mosaic flooring is made up of the following components:
A concrete layer.
A coating of cementing agent that is 3 mm thick (consisting ratio of 2: 1: 1 of lime and marble and pozzolana material).
The placement of marble pieces or tiles begins after 4 hours.
After placing the marble pieces, a stone roller 30 cm dia, 45 to 6 cm in length is softly rolled over the surface with water sprayed on it.
Now and again to build up the cement between the marble pieces.
After allowing the surface to dry for 24 hours, it is massaged with a pumice stone 20 cm x 25 cm x 7 cm attached to a long wooden handle.
The goal is to smooth and level the surface by polishing it.
Before usage, the floor is dried for roughly two weeks.
Types of Mosaic Floor Tiles:
Mosaic tiles are a popular choice for many individuals who want to add a unique touch and make a statement in a variety of places because of their adaptability and endless possibilities.
Various criteria can be used to generate various kinds of tile mosaics:
Its shape: square, rectangular, hexagonal, octagonal, irregular.
Depending on the material used to create the mosaic flooring.
Following the categorization of the shapes of mosaic tiles, below are some of the most prominent varieties of mosaics:
1. Chevron Mosaic Tile:
The chevron tile pattern is composed of rows of interlocking parallelograms that are linked end to end to form a continuous zigzag pattern that can run parallel or perpendicular to the neighbouring walls or floor.
Each side of the inverted V-shaped Chevron structure meets nearby.
The result is a zig-zag pattern that is well-liked for bedding, bathroom tile, and backsplashes.
2. Penny Hexagonal Tile:
Penny tiles are a classic substitute that first started to show up in plenty of kitchens and bathrooms in the 19th century.
They are significant resurgence in the modern tile industry.
Porcelains one of the most common materials used to manufacture penny tile.
Unglazed porcelain penny tiles are ideal for creating or complementing a historic or traditional home décor.
Glazed porcelain penny tile patterned mosaic flooring can have a satin or glass surface that are frequently available in a basic white.
Metal penny tiles like glass penny tiles are a premium choice that may create an attractive contemporary aesthetic that suits practically any room.
3. Hexagon Mosaic Tile:
 Hexagon tile has an attractive geometric tile pattern that brings life to any installation.
Our large selection of hexagon tiles covers a wide range of materials, finishes, and colors including black tiles, white tiles, grey tiles, blue tiles, and many more.
Swimming pool tiles, backsplashes tiles, wall tiles, fireplace tiles, external walls tiles, terrazzo tiles, and countertops tiles are ideal for different applications.
4. Octagonal Mosaic Tiles:
The octagonal mosaic flooring tiles are available in 296 by 296mm sheets.1 square meter requires 11 sheets.
This is a glazed ceramic tile with a semi-gloss finish because of the tiny forms and the grouting between the tiles may be used in the shower.
The growing popularity of octagonal mosaic tiles for geometric designs in interior design both refreshing and motivating.
These structures have stood the test of time in the future.
We adore the use of white in bathrooms in all of its tones and textures, and these floor tiles are ideal.
The black inserts give these classic tiles a dash of nostalgic flair.
5. Herringbone Floor Tiles:
Herringbone floor tiles are quite popular and in high demand, and we offer a beautiful selection at Tiles & Mosaic flooring.
A grouping of rectangular tiles used for floors and walls that create a zigzag pattern and are named after the remains of the Herring fish is known as a herringbone tile pattern.
Rectangles or parallelograms can be used as tiles.
Herringbone tiling is a trendy design right now.
Check our selection of Herringbone Floor tiles below to find a variety of styles such as glossy brick tiles, matt tiles, and wood appearance tiles in a variety of colors to suit all budgets.
Following the categorization of the various materials, below are some of the most prominent varieties of mosaics:
6. Glass Mosaics:
It is one of the most popular swimming pool materials due to its high resilience to the passage of time and humidity.
Besides, they are simple to clean and require minimal upkeep.
Glass mosaic flooring is the most adaptable form of mosaics, adding energy to any area they are placed in and adapting to any decorating due to the wide variety of designs available.
7. Metal Mosaics:
Metal mosaics with their distinctive designs add a one-of-a-kind and particular touch to any space.
Because of the range of textures and finishes, they are ideal for every sort of area, whether in our own house or workplace.
Metal mosaics are an amazing alternative for giving industrial air to any area in an attractive way if you want to give it a modern and avant-garde touch.
Metal mosaics in a range of colors, tints, forms, and textures are available in our inventory and it will fit nicely in any decor.
8. Natural Pebble (Stone) Mosaics:
The use of real pebbles for mosaic construction yields high-quality results with a wide range of sizes, forms, colors, and finishes.
This form of mosaic flooring adds style and beauty to every area where it is installed.
In a simple word, it is one of the greatest options since natural stone is a very resistant substance to the aging process both indoors and outdoors.
9. Natural Wood Mosaics:
Natural wood mosaics are a favourite to place on the walls of indoor areas, where they are ideal for achieving a new and unique touch.
Mosaic is not only the uniqueness of their designs but also provide warmth to the rooms in which they are installed.
As a result, they become both an attractive and a very practical aspect.
10. Marble Mosaic Tile:
Marble tile is one of the best tile variants in modern architecture and interior design.
On any surface, marble tiles create a classic look with a comforting and cooling effect.
This range of marble mosaic flooring tiles provides a mixture of traditional & modern styling with colours, patterns, and finishes to meet your needs.
Marble tiles in a variety of colors, such as white, grey, black, blue, silver, gold, and brown, assist you in implementing the most beautiful.
11. Porcelain Mosaic Tile:
Porcelain tile is ceramic tile that are denser, harder, and much less porous, making them impervious to water.
They are part of the ceramic tiles family because they are made of clay and go through a firing cycle at high temperatures.
It is more durable than ceramic tile because it is less porous.
These tiles are in a variety of colors such as white with a matte finish Finland's wood plank porcelain mosaic.
Advantages of Mosaic Floor Tiles:
There are variety of pre-made mosaic patterns to be very inventive and create your own.
These tiles are resilient and waterproof materials.
In addition to kitchens, laundry rooms, mudrooms, and sunrooms, mosaic tiles are also trendy in bathrooms.
Disadvantages Of Mosaic Tiles:
It might be difficult to install mosaic tile uniformly while keeping the grout lines clean.
Always best to hire an expert flooring contractor that specializes in mosaic tile installation to conduct the task for you.
The surface may turn slick when wet, requiring caution.
Textured tiles or area rugs in high-traffic areas have a lot of moisture, such as bathrooms.
Also read: Types of flooring | Difference between Ceramic and Vitrified Tiles
Conclusion:
Mosaic flooring tiles improve a one-of-a-kind and visually charming touch to any property.
You may build remarkable flooring surfaces with a variety of colors and designs that you will enjoy for many years to come.
The materials and choices available for altering or decorating a place are essentially endless.