Straw bale construction is a building technique that employs straw bales (often wheat, rice, rye, and oat straw) as engineering structures, architectural insulation, or even both.
 This technique of construction is frequently employed in natural building or "brown" infrastructure improvements.
Straw bales can be utilized in a structure as either load-bearing or non-load-bearing component.
In this article you'll learn:
Purpose of the Straw-bales.
Types of Straw-bales.
Merits and Demerits Straw-bales.
Lots more.
So, if you're ready to go with a Straw-bales this article is for you.
Let's jump into it!
What is Straw Bale?
Straw bale construction is a type of sustainable construction that employs straw bales or bundles as the primary building material.
Straw bales are commonly used in 'natural' building projects or earthen construction, and although it has historically been a prominent kind of building material in many regions of the world, it has lately attracted more attention owing to its sustainable features.
Purpose of Straw Bales:
Straw bales can also be used to create a load-bearing structure to manage the lateral or shear resistance of wind and seismic pressures.
Straw bales are utilized as a non-load bearing component for their insulating capabilities and are frequently employed as in-fill in various load-bearing frames.
Straw bales are often tied together with two or three threads.
Two-string bales are ideal for non-load-bearing applications, whilst three-string bales are better suited for load-carrying applications. Polypropylene twine or baling wire is used to connect the bales together.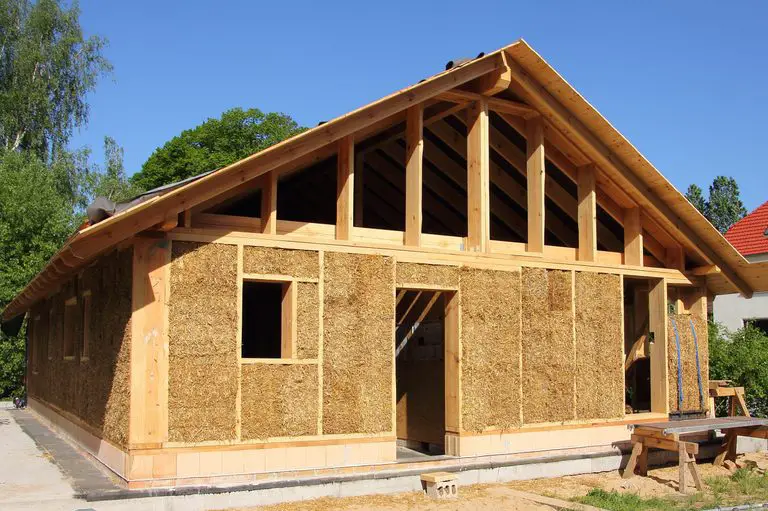 Construction of Straw Bales:
Straw and waste stalk from wheat, rye, and other crops are first gathered and converted into bales.
To construct a load-bearing wall, the bales are joined together along with three threads of polypropylene wiring string or baling wire.
The foundation is constructed using 12mm threaded rods for the first layer, which is then placed on top.
More rods are inserted, and each subsequent layer is added.
Window and door openings are carved into the bales.
The second layer of bales is spaced above the first so the centre of each bale in the next higher layer is located just above the beam connecting two bales on the bottom level.
Stacking with running bonds results in a strong and sustainable wall.
As the top plate, a wooden crate beam is used to support the roofing.
The connecting rod extending from the box beam connects the entire wall.
Cabling, electricity, and plumbing are all installed in the slots between the bales.
Plastering work begins once the straw bale is set to beam level and the conducting work is finished, using a cement plaster ratio of 1:6 or 1:8.
Types of Straw Bales:
There are two kinds of straw bales that are often used:
Bales are held together by two strings:
Two-string bales are more convenient to deal.
They are lighter, smaller, and more manageable than three-string bales.
 Mostly prefer two-string bales since they can move and stack them alone, but three-string bales require two persons to carry and stack, especially after a hard day of baling.
A two-string bale has a lower R-value than a three-string bale; nevertheless, the difference is so little that it is barely perceptible.
Bales are connected by three strings (these are larger in all three dimensions):
The benefit of 3 string bales is that they are sturdier when piled. Because of their bigger base surface area, 3-string bales are highly robust in the field, as noted above in the field stacking ability.
This also translates into robust barriers. For this reason, favour three-string bales when constructing load-bearing structures.
Furthermore, because they are broader, you may cut deeper niches into them, which is a useful feature.
Advantages of Straw Bale:
Construction raw materials are inexpensive.
Straw bales are so closely packed, that they are three times as fire-resistant as traditionally built walls.
It may sound contradictory, but straw bale is a good alternative in wildfire-prone locations.
The massive, sturdy walls are soundproof, providing a haven from the outside world.
If the straw is produced without the use of conventional fertilizers or pesticides, it is non-toxic. There will be no harmful substances or off-gassing.
Because the building components are large and simple to install, construction may be completed quickly.
Straw bales are strong enough to withstand severe winds while remaining flexible in the event of an earthquake.
Disadvantages of Straw Bale:
If straw bales are not stored properly, they are prone to rot and mould.
Construction using straw bales can also be difficult in terms of acquiring building permits or insurance coverage as they are not a common building material and they are not covered by all municipal building rules.
Rodents and other small animals must be kept out of straw bales while they are being built.
Because of the thickness of the walls, more of the building's total floor space is unused.
Fire is also a problem, although due to the density of the bales, fires tend to smoulder instead of spread when an ignition stimulus is removed.
Also read: Gable Roof | Types of Structures | Load Bearing Structure
Conclusion:
Straw bale is a historic building material, although modern construction technologies are relatively recent; discover how modern straw bale building has evolved.