Topping concrete is the process of applying a layer of high-strength concrete over an old, worn-out surface of the concrete to create a dense, abrasion-resistant surface and increase the structural depth and strength of the base concrete.
In this article you'll learn:
So, if you're ready to go with a concrete topping, this article is for you.
Let's dive right in.
Introduction to Concrete Topping:
Over an old, weathered concrete surface, concrete topping is a densely packed, abrasion-resistant surface made of high-tensile concrete.
Its foundation is deeper and stronger concrete.
A concrete topping consists of covering a weaker concrete layer with a more durable one.
An existing concrete slab is finished by adding another layer of concrete on top of it.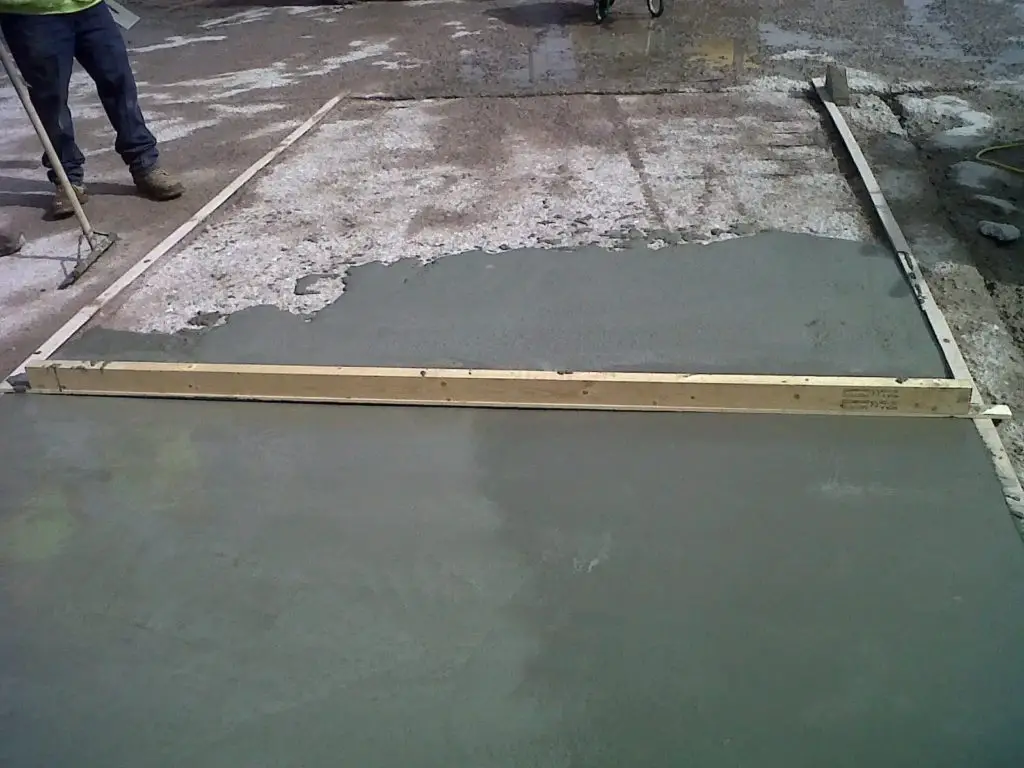 Types of Concrete Topping:
Depending on the kind of bond that forms between the old and new concrete, topping concrete can be divided into two categories.
1. Fully Bonded Topping:
The recommended thickness ranges from 1 to 2 inches for a fully bonded concrete overlay installed over a base slab made of sound, tidy, and high-quality concrete.
Usually, it is not appropriate to use welded wire fabric reinforcement in these situations.
In general, it is anticipated that any cracks that develop in the current base slab will be reflected in bonded overlays.
Small aggregate not larger than 3/8 inch (10 mm) or less) and high sand content is required when installing conventional concrete overlays that are less than 1 inch (25 mm) thick.
Due to high water demand, these overlays shrink more than thicker overlays that are more prone to cracking, debonding, and scrunching.
The majority of thin-bonded overlays are installed to restore the wearing surface rather than to increase the slab's strength.
The formulas can be modified for use with floors even though they were created for highway and airport pavements.
2. Unbonded or Partially Bonded Topping:
If there are cracks in the base slab or if a good bond is partially or completely impossible to achieve, unbonded construction with a minimum thickness of 4-in. (100 mm) is advised.
Unbonded construction is beneficial for both light-duty and heavy-duty floors because it creates a stable foundation for the new floor surface thanks to the pre-existing slab.
Since these overlays are typically thicker than bonded overlays, other service requirements like doorway clearances may be hampered by the higher final floor elevation.
 Even after base slab cracks have been fixed, they might eventually show through a partially bonded overlay.
The overlay slab can be kept intact where cracks may form if the welded-wire fabric reinforcement is planned properly.
To position the fabric at the correct level below the surface when using a thin, partially bonded, or unbonded overlay, special care must be taken.
Using thicker overlays can reduce reflective cracking.
Working procedure of laying Topping Concrete:
1. Required Base Concrete:
Before pouring topping concrete on top of an already-existing concrete surface, a preliminary evaluation is necessary.
Concrete that is already there must be robust and hard.
The base should be free of cracks because the topping concrete cannot cover existing concrete cracks, and over time, the topping concrete itself may develop cracks.
Weak and fragile concrete bases are not advised due to the lack of adhesion between the old and new concrete.
2. Concrete Base Preparation:
This is the crucial step in the topping concrete installation because it guarantees the proper bonding and adhesion of the new and old concrete.
The concrete surface must be level, spotless, and free of any contaminants or dust before the topping slab can be installed.
Any topping concrete must be completely removed before being laid.
If the base concrete has a smooth finish, the surface must be made rough using a mechanical scabbing or scarification machine, exposing the base slab's coarse aggregate.
To get rid of dust, dirt, and loose debris, a vacuum cleaner is required.
The order in which the base concrete is prepared is crucial.
To avoid contamination or the build-up of dirt, the base must be prepared a day before the topping slab is placed.
3. Topping Concrete Installation:
Examining the nature of the existing slab is necessary before pouring the topping concrete.
The base slab must be filled with a small amount of water, and the absorption rate must be measured.
If the water is quickly absorbed, the slab needs to be kept wet for 4 hours before the topping concrete is poured, and the water needs to be completely drained before the concrete is poured.
The wet concrete's entire water content is absorbed by the base slab after it is placed in the base, leaving the concrete with a water deficit.
If there is no evidence of water absorption, this concrete can be placed according to standard procedure.
The typical thickness of a topping slab is between 50- and 100 mm.
Steel reinforcement depending on the thickness and specifications of the topping slab.
The slurry of cement, sand, and latex bonding agent is first poured onto the surface, then concrete is poured before the slurry dries.
The aggregates must be a part of the concrete mix.
Depending on the strength needed for the topping, sand or cement may be used.
A mix of at least M20 grades must be laid.
The topping concrete needs to be spread, compacted, screeded, and bull floated just like a concrete floor would.
4. Finalization:
The place, usage, and surface requirements are just a few of the variables that affect the type of finishing needed.
If additional concrete is added to an existing slab, the surface is given a rough finish in preparation for the installation of flooring.
 Concrete can be finished with a smooth surface if it is placed on concrete flooring.
5. Curing:
Concrete must be properly cured in order to achieve the highest surface strength, highest resistance to surface abrasion, lowest permeability to prevent or reduce the occurrence of drying shrinkage cracks.
Effective curing reduces the impact of differential shrinkage.
As a result, by delaying the effects of differential drying until the concrete is better able to withstand them.
An absolute minimum of seven days must be spent curing.
6. The finishing touch:
The kind of finishing needed for topping concrete is determined by a number of factors like location, use, and surface requirements.
It is applied to an existing slab to give the flooring a rough finish.
Concrete can smooth out when placed on top of concrete for floors.
Advantages of Concrete Topping:
It provides a thicker floor covering.
Clean concrete will cover up any flaws in the original concrete's surface.
A level, flat concrete floor that can be polished or used as a foundation for other flooring materials.
Reinforce the fragile and brittle concrete.
Decreased equipment wear and tears (smoother drive for equipment).
It reduces the costs for repairs on completed projects.
Disadvantages of Concrete Topping:
A topping slab may be used to develop extra superimposed bearing capacity.
Adding new concrete layers on top of older ones increases the dead load.
Raising the level of an existing slab by adding concrete.
Application:
The waterproofing is accomplished by the topping slab.
The slab below is shielded from abrasion.
By acting as a wear surface, it supports loads that are placed on it.
 The floor has a level surface.
An additional superimposed bearing capacity can be developed using a topping slab.
Also read: Concrete Laitance | Bendable Concrete | Concrete Spalling
Conclusion:
The top of structural floor is covered with a layer of concrete topping to strengthen the slab.
Floor coverings, parking lots, and bus stops can all have concrete toppings.
A level surface for the interior floor and resurfacing the damaged floor are both accomplished by concrete topping.
Additionally, it provides a special base support for mechanical and electrical devices.