The mezzanine floor is between two layers or between the floor and the ceiling.
 The useful capacity of the upper floor is doubled by the mezzanine floor.
This flooring can be installed in any style of building.
In this article you'll learn:
Intro to the mezzanine floor.
Types of mezzanine floors.
Merits and Demerits of the mezzanine floors.
Lots more.
So, if you're ready to go with it, this article is for you.
Let's dive right in.
Introduction to Mezzanine Floor:
Mezzanine floors have been built on half of the wall with a ceiling at least 2 times higher than the minimum height of the floors.
They must have at least one-third of the floor.
In many cases, the height of the mezzanine level above and below the floor must be at least 2 meters.
If the fire extinguisher is added, the height will go up to 4.4 meters.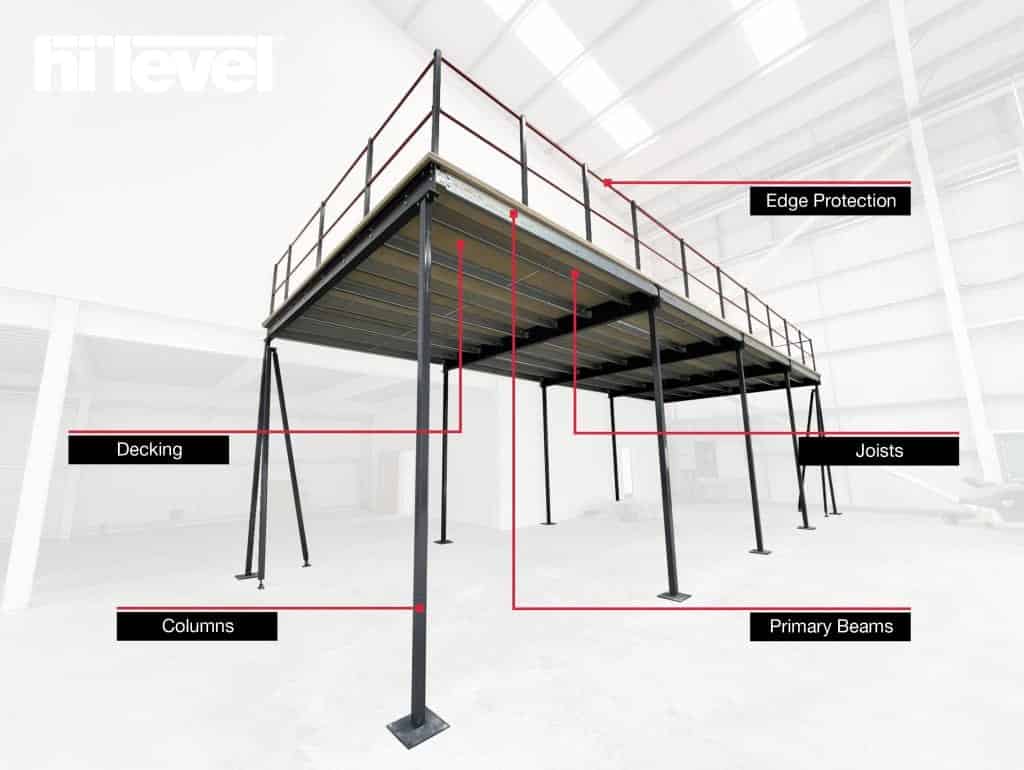 Types of Mezzanine Floor:
Rack Supported Mezzanine Floor:
A rack Mezzanine is a storeroom or warehouse created as the main structural support with a storage rack system.
 Since support racks and a Mezzanine are used for both systems, the design of this type of support can help reduce costs and space.
Racking and shelf system manufacturers may include a multi-story layer of mezzanine structure in the rack system.
This improves storage space efficiency and makes the item more approachable.
Concrete Mezzanine Floor:
It is a longest-lasting floor option.
They are important in industrial applications of industrial and high-capacity where the mezzanine is permanent because of their ability to load a large amount of load.
The decoration on the mezzanine floors is frequently made of concrete.
 This is the most durable type of mezzanine floors decking system, with high point loads and minimal acoustic transmission.
Concrete decking is ideal for industrial applications that require high-level structural strength.
Steel Structural Mezzanine Floor:
A steel mezzanine is a popular choice for warehouse storage, machinery platform, and other industrial applications.
Steel construction is extremely strong, resulting in such a building that is both long-lasting and safe.
Steel mezzanine and equipment platforms can be created as an unsupported design with bolt-tugger construction for simple installation in existing structures.
 As steel is an excellent material for adding a mezzanine floors to the existing space.
One of the most prevalent decorating options for industrial and commercial buildings is a steel mezzanine floors.
Its design provides strong and safe pedestrian traffic resistance.
Advantages of Mezzanine Floor:
They provide additional space for internal parts.
It is simple to set up and does not cause any disruption to the business.
Excellent arrangements make substantial use of space available, resulting in increased productivity and efficiency in the workplace.
Depending on the situation, they can be movable or fixed.
They offer excellent fire protection as well as various lighting options.
Disadvantages Of Mezzanine Floor:
The mezzanine occupies a large number of spaces, supported by supports, and is frequently found i.e. high-traffic areas.
On the second floor, it is similar to supporting the additional floors through the beam.
This floor system of the ground level work area will be improved.
Application of Mezzanine Floor:
They can be used to provide a comfortable working environment and a proper work area.
It is usually used when compact space needs to be done.
They can be used for various purposes, including offices, bulk storage, and staff cafeterias.
Another use of mezzanine levels is to create additional floors pace when the ceiling area looks smaller and more personal.
It provides an extra room in the building, whether it is a home, office, or other design.
Related Articles: Components of Building | False Ceiling | Space Frame Structure
Conclusion:
Mezzanine floor are a great way to increase the amount of space on the floor in many industrial and commercial buildings.
In the context of production, the mezzanine work platform can help improve the accessibility in equipment or maintenance areas and improve productivity and economy.
Installation of the mezzanine in many companies can be an effective way to increase the usable space without the need for expensive building expansion.