Plastic formwork is an innovative substitute for the conventional ply form that can be found in all construction sites across the country.
Plastic formworks for concrete construction have many useful properties for concrete formworks including durability, accessibility, and versatility.
In this article you'll learn:
So, if you're ready to go with plastic formwork., this article is for you.
Let's dive right in.
What is a Plastic Formwork System?
It is made of a special type of plastic formwork so that any material placed on it does not stick to it or the material poured into it does not chemically react with the plastic formwork.
Also preventing any patches from appearing on the reinforced concrete surface.
Since many components of the system work together flawlessly, leaks of water or freshly placed concrete from various parts of the form are prevented.
 In addition, it is the most labour-friendly system because it fits and plugs in without difficulty and is much lighter in weight than other formwork systems.
Due to the automatic levelling of the plugging system, which makes the level of the plate without the need for nailing or lubrication prior to concreting, it takes about 30% less time during installation and dismantling compared to conventional form systems.
The plastic forms are also conveniently cleaned with water after use, and if they interrupt due to careless handling, they are sealed with a low voltage hot air gun.
Both these formwork materials like wood, steel, and aluminum have a number of problems that may compensate their advantages.
For instance, the use of wood is very expensive and has a significant negative impact on the environment because of deforestation.
Although aluminum formworks can be used repeatedly, their high cost makes them a less than ideal choice.
On the other hand, plastic forms have a high reusability index that can be recycled, and they are environmentally friendly.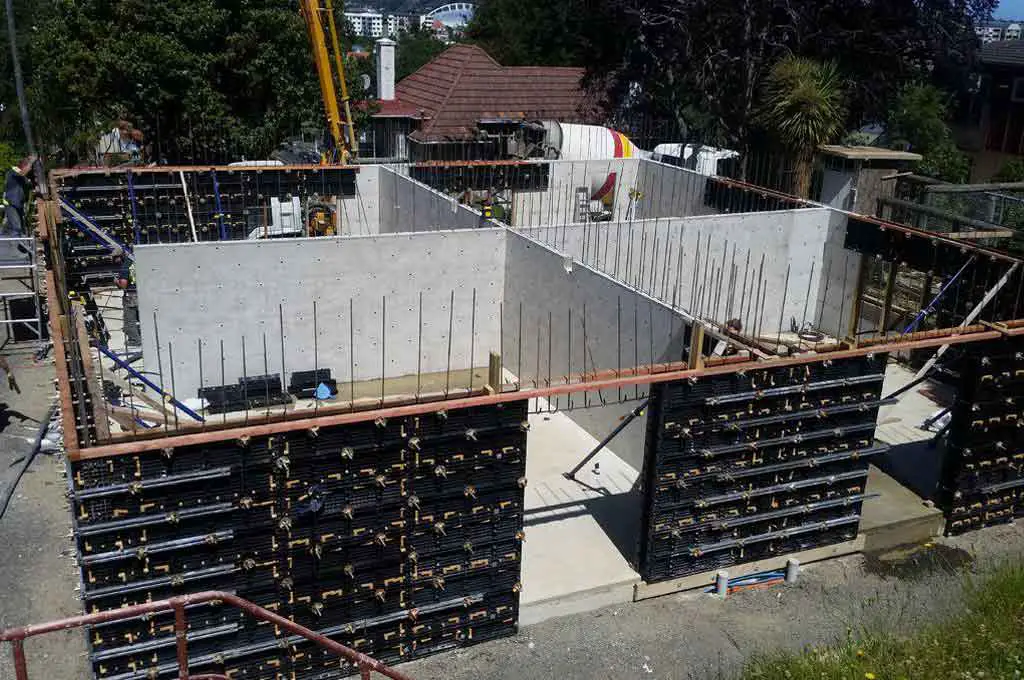 Purpose of Plastic Formwork in the Construction of Concrete:
Although formwork is not a permanent structure, it still needs to be handled carefully to prevent permanent structural damage, three principles govern the design and construction of the formwork as follows:
Safety: A lot depends on the strength of the formwork. If the formwork is not strong enough, the survival of workers and members of the public could be in danger.
Quality: The precision of the final finished surface of the concrete element.
Economical: The structural frame is the most important construction component and it is also the most expensive.
Types of Plastic Formwork:
1. Siscon Plastic Formworks:
It is a kind of commercially available plastic formwork that can be used to build a variety of structural components including slabs, walls, and columns.
It offers a great deal of accuracy.
2. Plastic Wall Formworks:
This material is used in the building projects of boundary walls, retaining walls, shear walls, flood or storm drain walls, irrigation canals, and concrete financial services.
1. Corner Wall Formwork:
It is utilized when building corner walls. It is made with basic joints. fewer supports, too.
2. Junction Wall Plastic Formworks:
It is utilized when building junction walls, they are simple to manage.
3. Plastic Intersection Wall Formwork:
It is employed in the development of intersection walls; they are simple to fix and take away.
3. Plastic Column Formwork:
It is produced from a particular grade of plastic; they do not adhere to other materials.
Moreover, no chemical reactions take place between the concrete and the plastic form, the concrete's surface doesn't develop any patches.
1. Nova Plastic Formwork System:
It is made of composite plastic, making it the only type of plastic that can be used safely in both freshwater and saltwater.
Numerous uses for NOVA plastic formworks.
2. Moladi Formwork:
It is portable and recyclable.
Also, necessary to manage negative traits.
Additionally, formworks have problems.
4. PP Hollow Plastic Formwork:
A type of environmentally friendly and energy-efficient product for environmental protection, PP Hollow Plastic Formworks combines PP plastic with macromolecule nanotechnology.
This formwork is a great innovation after wood formwork, composite steel formwork, bamboo-wood bonding formwork, and all-steel large formwork.
5. PVC plastic formwork:
Concrete is poured into a temporary structure called a formwork system during construction to keep the concrete in place.
Once the concrete has taken on the desired shape and strength, it is removed.
It is applicable to both horizontal and vertical structures.
6. Plastic Formworks for Column:
Geoplast plastic formwork is appropriate for the on-site construction of concrete foundations, walls, plinths, columns, and pillars.
Columns and pillars of various sizes and shapes, as well as walls and foundations of various heights and densities are all satisfied by them.
Formwork items Geopanel, Geopanel Star, Geotub, and Geotub Panel are significantly lighter than traditional wood panels.
Additionally, they are made of plastic and the concrete does not stick to them, each component is easily cleanable with just a little water before being reused.
7. Plastic Formwork for Concrete Slab:
In various kinds of construction projects, ribbed concrete slabs produced by Plastic Concrete Forms are used when it comes to slab construction.
Compared to conventional slabs, this formwork system slab is lightweight and environmentally friendly.
The chunks' intriguing outline offers a few substitutes for using things like cables, wires, lighting, and air-conditioning frameworks.
Slabs can be covered with cladding or left exposed.
Due to its special characteristics, this formwork system does not require any cleaners or discharge specialists.
Plastic cannot adhere to concrete, so washing it toward the end of the project is not a problem.
Advantages of Plastic Formwork:
Formworks require a lot of labour and add significantly to the project's cost, so efforts have been made to introduce a system that is both affordable and simple for labour to assemble, disassemble, and handle.
Plastic formworks have a number of benefits in the concrete construction industry, which as follows:
Effective from a financial perspective.
They are favourable to labour.
It is environmentally friendly.
Also, simple to maintain.
They are flexible.
Disadvantages of Plastic Formwork:
1. Lack of heat endurance:
Despite being very flexible and tough, plastic formworks are not heat resistant.
2. Load-bearing capacity:
High-quality plastic formworks are quite sturdy and it can withstand massive loads up to a certain limit.
3. High levels of flexibility:
Occasionally, this quality of plastic formwork can work against it.
4. Cost consideration: 
As compared to conventional materials like plywood and aluminum, plastic molds are more expensive.
Also read: Slip Formwork | Concrete Retarders | Fresh concrete
Conclusion:
Plastic formworks is the greatest things that have ever occurred to the construction sector.
Plastic is another type of formwork material that is used for small concrete structures or complex structural components.
It is light in weight and lasts for a long time.