Skirting is a plank that runs along the edge of an internal wall and the floor.
Its smoothies down rough edges, protects furniture from scratches and gives the room a glossy look.
As a result of the new modern interior conceptual design, new skirting boards and pattern varieties are now available.
In this article you'll learn:
Purpose of skirting.
Standard Skirting Dimensions.
Types of skirtings.
Lots more.
So, if you're ready to learn more about skirtings, this article is for you.
Let's dive right in.
Introduction to Skirting:
Earlier, skirting planks were made of timber.
New skirt board materials were developed as technological advances continue.
It provides a practical role as well as an attractive one.
It protects materials from deterioration by protecting them from being accessible to the outside environment.
Skirtings can also be used to conceal unsightly features, components, and materials from specific portions such as water lines and electrical cables.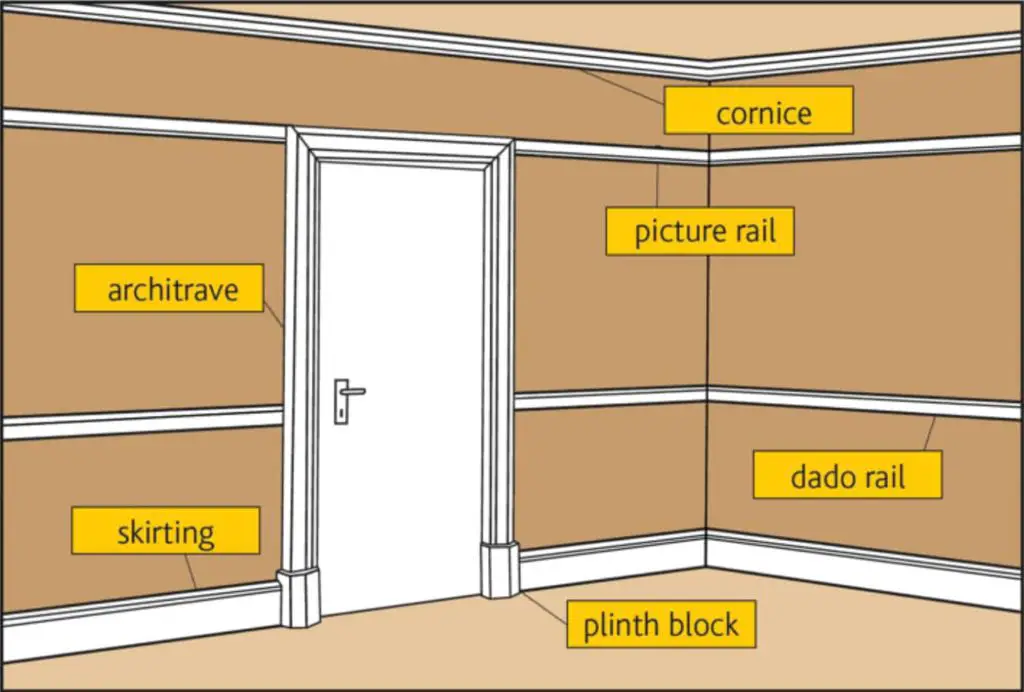 Purpose of Skirting:
Skirting is a strip (usually made of wood) that runs along the bottom of an interior wall.
Its function is to hide the seam between the wall and the floor.
 It protects the wall from blows, erosion, and furniture, as well as functions as an aesthetic moulding, by hiding the uneven edge where the flooring meets the wall.
Standard Skirting Dimensions:
The conventional height of skirting boards or tiles is usually between 120mm and 230mm with 145mm standing out or it can alternatively range between 10 and 20 cm.
 These boards are available in a variety of sizes and its heights ranging from 70mm to 400mm.
Types of Skirting:
The skirtings can be of several varieties based on the style and material used as follows:
1. Pencil Skirting:
Pencil skirting is the ideal solution for hiding the expansion gap or creating a perfectly completed surface.
You can effortlessly hide all of the unwanted wires and connections with this type of skirtings.
The upper edges of these boards are frequently curved, giving them a modern and attractive appearance.
It's a precise design that combines well for both plain and patterned walls.
2. Wooden Skirting:
When utilized with marble or terrazzo flooring, wooden skirting is very lovely.
These wooden boards can be found in a variety of styles, finishes, and sizes on the market.
You can select one that complements the style of your home.
 Install these ornamental wooden skirtings to give your area a more realistic look.
It also works nicely on tiled floors.
 It can be used on light floors, walls, and ceilings.
Also, adds a traditional aesthetic to your home.
3. Metal Skirting:
Metal skirting boards are strong and long-lasting.
On the contrary, it is a little tricky to put together which requires skilled labour.
It also has the advantages of being versatile, efficient, and aesthetic.
You can even bring them closer to a certain space.
These boards have the disadvantage of being easily scratched.
 Apart from that, these adaptable boards are both desirable and feasible.
4. Continued Skirting:
Continuous skirting, also called keypad skirting are skirtings that is placed in a continuous pattern against walls or steps.
These contemporary boards will dramatically transform your room and beautifully elevate your home's interiors.
It's an attractive interior design concept that many homeowners employ to develop a unique look.
It can be used to highlight any internal structure or aspect.
5. Flush Skirting:
Flushing skirting distinguishes it from other skirtings in a few aspects.
To put it another way, the tile is connected in such a way that the tile and the plaster are flush.
It gives your rooms a pleasant and flawless aspect.
They require careful planning and design in advance because the walls must be cracked to remove the plaster before the skirtings are installed.
It does not collect dust because it is flush with the wall, especially at the outside level of the wall.
6. Double Layered Skirting:
Two-toned skirting also referred to as double-layered skirting can be used to give a room additional depth.
It is the finest alternative to choose if you're seeking a skirtings that may provide some detailed design to your interiors.
It consists of double skirtings that is produced in two halves and installed together.
These two layers can be of the same level or separate levels, depending on your preferences.
Also read: Components of Building
Advantages of Skirting:
1. Hide exposed electrical wires and connections:
Skirtings can be used to conceal uncovered electrical wires and interconnections that are unable to be uninstalled.
When compared to concealing these cables beneath the ceiling board, it has been concluded that hiding them underneath the skirtings board is more cost-effective and convenient.
2. Cover the gap between the walls and the floors:
Some construction errors might result in unsightly gaps between the walls and the floor tiles.
Such a process takes a long time and costs a lot of money.
3. Avoids furniture marks:
The skirting board features a protrusion that maintains a consistent space between neighboring furniture and the inner wall.
This prevents rubbing and scratching from the furniture, leaving the wall scratch-free.
4. Improve the interior:
Skirtings that is matched and of a decent shade provides the room a finished and cleaner appearance.
They provides a professional appearance to the space in which it is placed.
Also read: Partition Wall
Disadvantages of Skirting:
Skirtings are prone to scratching.
They are cost-effective.
Also read: Load Bearing Wall
Conclusion:
When it comes to home interiors, skirting is just as crucial as flooring, ceilings, and walls.
The function and aesthetics of the room are determined by this auxiliary material for walls and flooring.
In addition, this former colleague of the floors provides excellent protection against damage, hence it is critical to completely understand the complexities of skirtings.
It comes in a wide range of materials, sizes, and profiles and you must select the most suitable skirtings for your room.
Although the design, material, and profile are all entirely personal preferences, you must follow the fundamental rules of each.
However, you must be aware of the benefits and disadvantages of each to select the best solution for your work.