Soft flooring also called resilient flooring serves as a back to any kind of hard flooring.
As Compared to a single ordinary hard floor, the addition of this extremely elastic layer greatly decreases steps and muffles noise.
The amount of comfort it offers makes it a highly popular choice that is widely used.
In this article you'll learn:
So, if you're ready to go with soft flooring, this article is for you.
Let's dive right in.
What is Soft Flooring?
Soft flooring includes materials like vinyl, laminate, hardwood, and carpet that can be readily installed over your current hard floorings like PCC, ceramic, marble, or vitrified flooring.
Flexibility is another characteristic that sets soft floors apart from hard floors like stone or ceramic tiles.
The flexible tiles or rolls used to produce the soft floor covering are both choices.
Soft floors originate in a variety of colours and textures, giving the buyer a wide range of possibilities.
Purpose of Soft Flooring:
The extremely elastic sheet reduces footfalls and also significantly reduces noise compared to a single unique hard floor.
It is a popular solution that is well recognized due to the level of convenience, it is acknowledged as resilient flooring.
A soft floor covering is created by humans in the form of a roll or elastic tiles and shares the same elasticity as hard floors like stone or ceramic tile.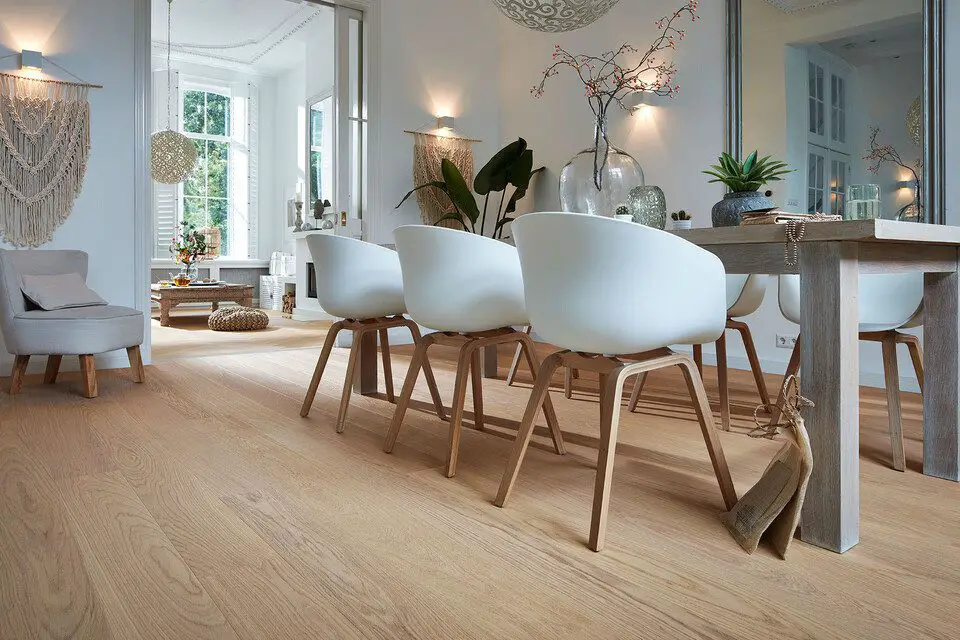 Types of Soft Floorings:
The most typical kinds of soft floors are as follows:
1. Rug and Carpet:
The most popular choice for soft surfaces is carpets and rugs.
Rugs are loosely-laid pieces of a smaller dimension that are used to cover smaller areas whereas carpets are designed to cover larger surface areas.
As compared to other soft flooring materials, its fabric offers better comfort.
The four primary categories of carpets and rugs are pile rugs and carpets that mechanically manufactured carpets, yarn and fibre carpets, and flatweave rugs.
A significant disadvantage of carpets and rugs is that bacteria and dirt may build and stick to the carpet, making cleaning them more difficult.
2. Glass flooring:
A transparent area of the floor composed of reinforced glass is called glass flooring.
It improves the area overall appearance and serves as a point of interest.
3. Vinyl Flooring:
Vinyl composition tile (VCT) and sheets are two different types of vinyl soft flooring.
It is made of coloured vinyl chips that have been polished with unique materials.
It reduces noise transmission and maintains a warm floor.
The vinyl floors are simpler to maintain and resistant to abrasion.
4. Rubber Flooring:
Rubber flooring uses adhesives to attach sheets or tiles composed of rubber to a concrete floor.
The thickness of each sheet ranges from 3 to 10 mm.
Since they are elastic and noise-proof, they are typically expensive.
Rubber floor inserts with anti-slip properties are also offered.
5. PVC Flooring:
PVC and fibre are combined to create polyvinyl chloride (PVC), a thin and moderately hard tile used as a floor finish.
It includes plasticizers, which is harmful to the environment and individuals.
6. Cork flooring:
Oak tree bark is used to make cork soft flooring.
Although it is one of the softest alternatives, it has a similar appearance to hardwood flooring.
Cork flooring has the drawback that any sharp object that makes contact with the floor could leave a lasting dent or other harm.
7. Linoleum flooring:
Although it is softer than tile or hardwood, linoleum is not as soft as vinyl.
Since linoleum is comprised of renewable resources and has antibacterial qualities, it is environmentally friendly.
It weighs little and is simple to clean, but if it hasn't dried entirely, it might be slick and dangerous.
8. Wooden Flooring:
This type of flooring is made entirely of wood with each plank being a single solid piece that is cut from the tree.
It costs a little more than laminate and engineered flooring.
Engineered wood is constructed with a top layer of hardwood (2 to 4 mm) and 4 to 5 layers of other wood arranged in a crisscross pattern for cost-effectiveness.
The most popular type of flooring is laminate wood, it has a similar appearance to the original hardwood flooring.
Advantages of Soft Flooring:
Warmth: Soft flooring is made of materials with increased heat resistance, this aids in keeping a higher room temperature.
Ease: Soft floors add to the feeling of comfort and luxury.
Noise: The materials used in soft floors serve as a sound barrier and a source of insulation.
Safety: Cushioning is provided by soft floors such as carpet, rubber, etc., which lessens the impact of falls, it improves the floor's suppleness and flexibility.
Hygiene: The fibres of carpets and rugs catch dust particles and inhibit their movement in the room.
Style: A soft floor can improve a space's aesthetics and improve its overall appearance.
Disadvantages of Soft Flooring:
Professional cleaning is required on a regular basis for the floor.
Soft floors are not preferred in locations that allow pets.
Due to the possibility of scratches and dents from cat and dog nails, it should not be used in houses with pets.
Cork may puff up or curl due to high humidity that will make the tiles protrude.
The floor will become discoloured in that area from direct sunlight.
Also read: Types of flooring | Mosaic Flooring Tiles | Components of Building
Conclusion:
Soft flooring will become unbalanced and there may be a risk of developing cracks.
All of these flooring techniques have an 8–10-year lifespan.